The first annual Leo Carty Fine Arts Fellowship was awarded to Karim Henry, a student at St. Croix Educational Complex High School. The 2022 graduate and class valedictorian will attend Savannah College for Art and Design in the fall. The $2,500 Carty Fellowship gives Henry a head start in his pursuit of a career in the visual arts.
The criteria for awarding the award is the nominee's success in being accepted into an accredited four-year fine arts institution with a major in one of the visual arts disciplines. Henry is the first recipient of the Legacy Scholarship which will continue territory-wide as an annual effort.
Stefan Carty is the youngest son of the late Leo Carty. He was honored with the task of keeping his father's artistic legacy alive. Together with Sonia Deane, owner of the Cane Roots Art Gallery, Stefan presented the gallery with two high caliber art exhibitions in 2021 and 2022 that represented the art genius of Leo Carty. Purchases and donations each year have added to the value of the scholarship.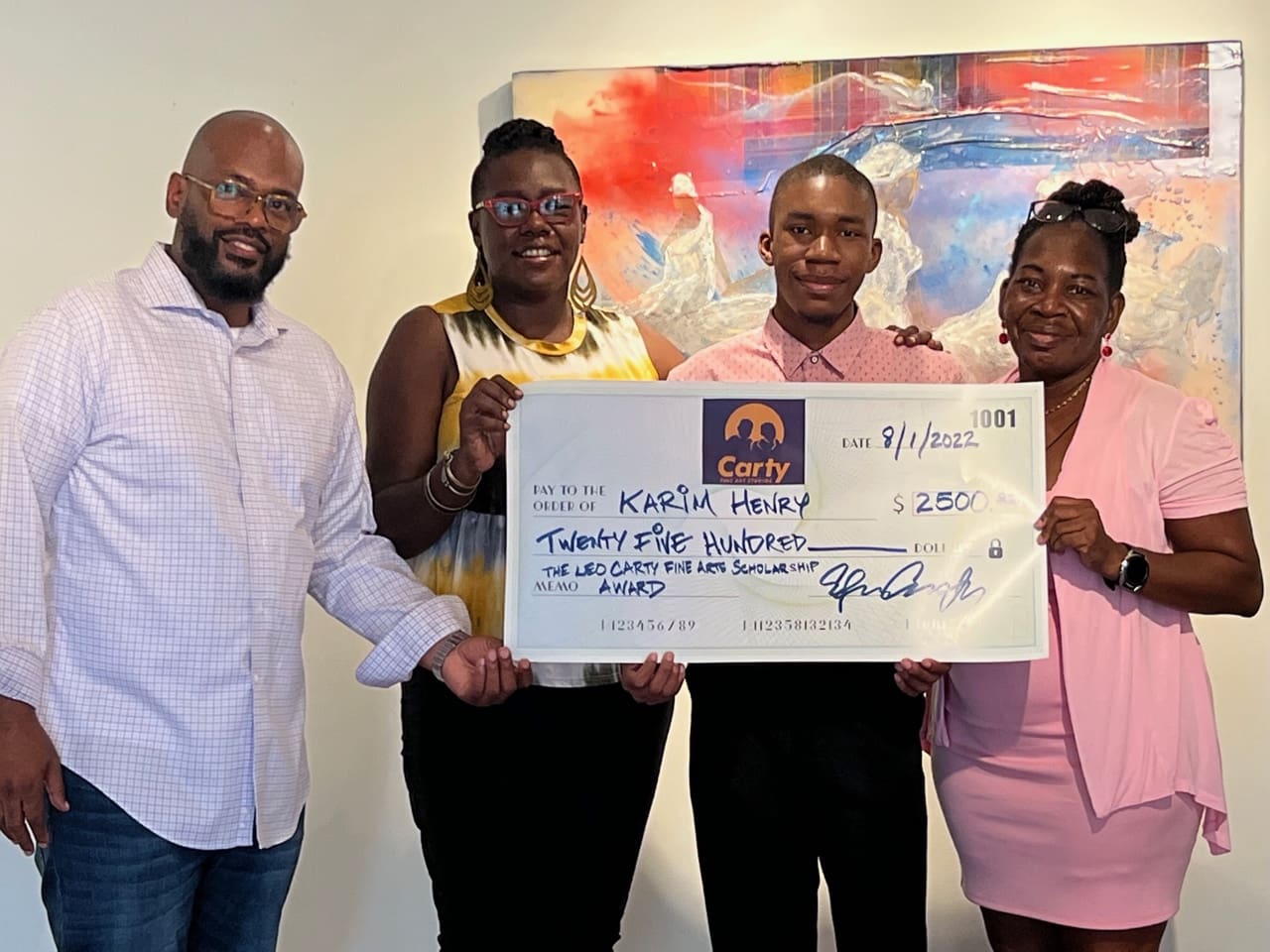 Stefan noted, "The responses have been great with the donations, and our gratitude to the community is to 'pay it forward' with the scholarship and also with donations to the two public high school art departments. A gift card of $1,000 each for new art supplies is given to SCECHS and St. Croix Central High School. The vision of the Leo Carty Fine Arts Fellowship is to nurture our youth and inspire the next generation of Virgin Islands artists.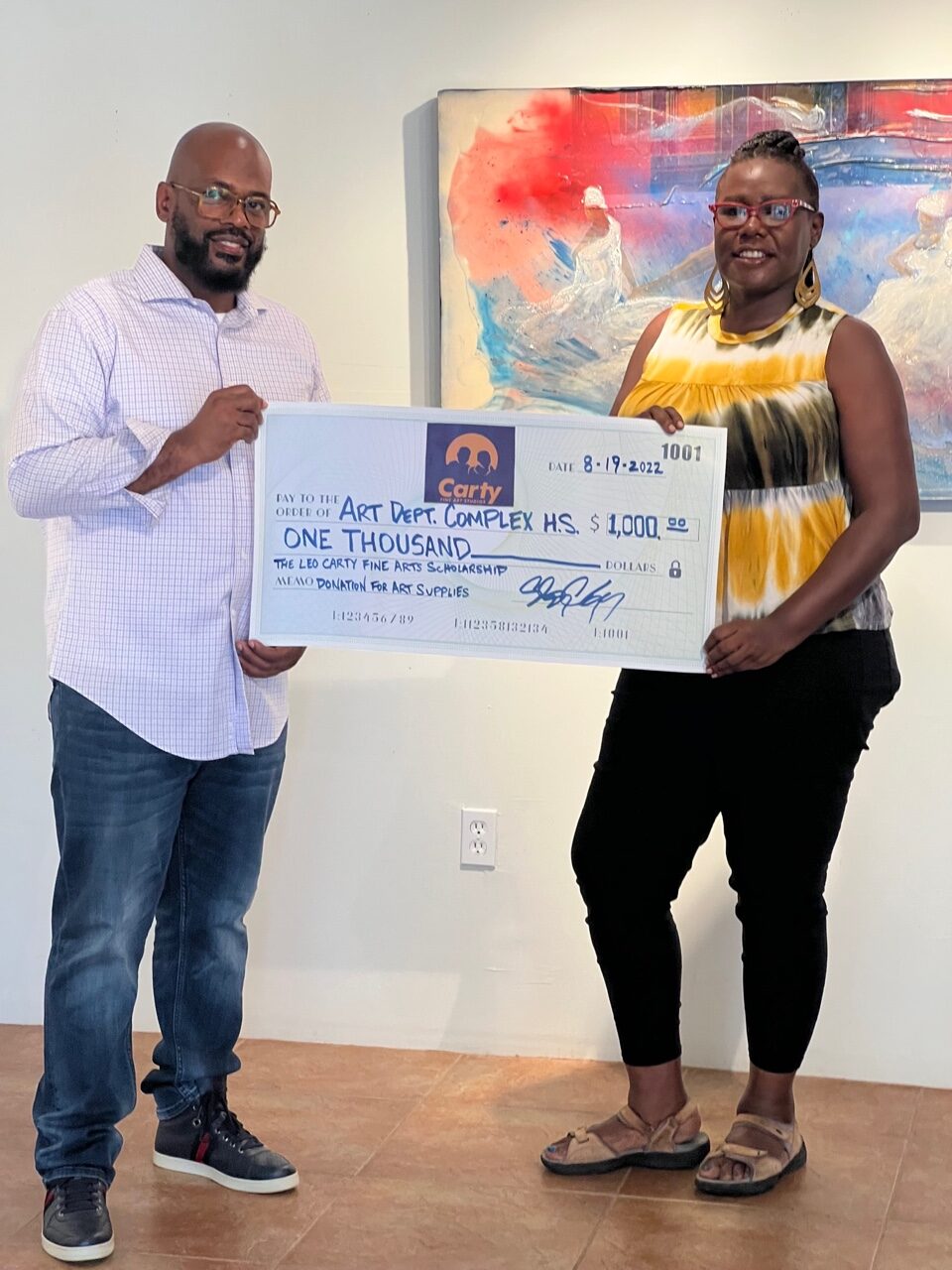 The Cane Roots Art Gallery hosted a photocall on Friday with Henry, his mother Claretta Randolph, younger brother Sedrick Flavius, SCECHS Fine Arts Department Chair Danica David and CHS Fine Arts Department Chair , Niarus Walker.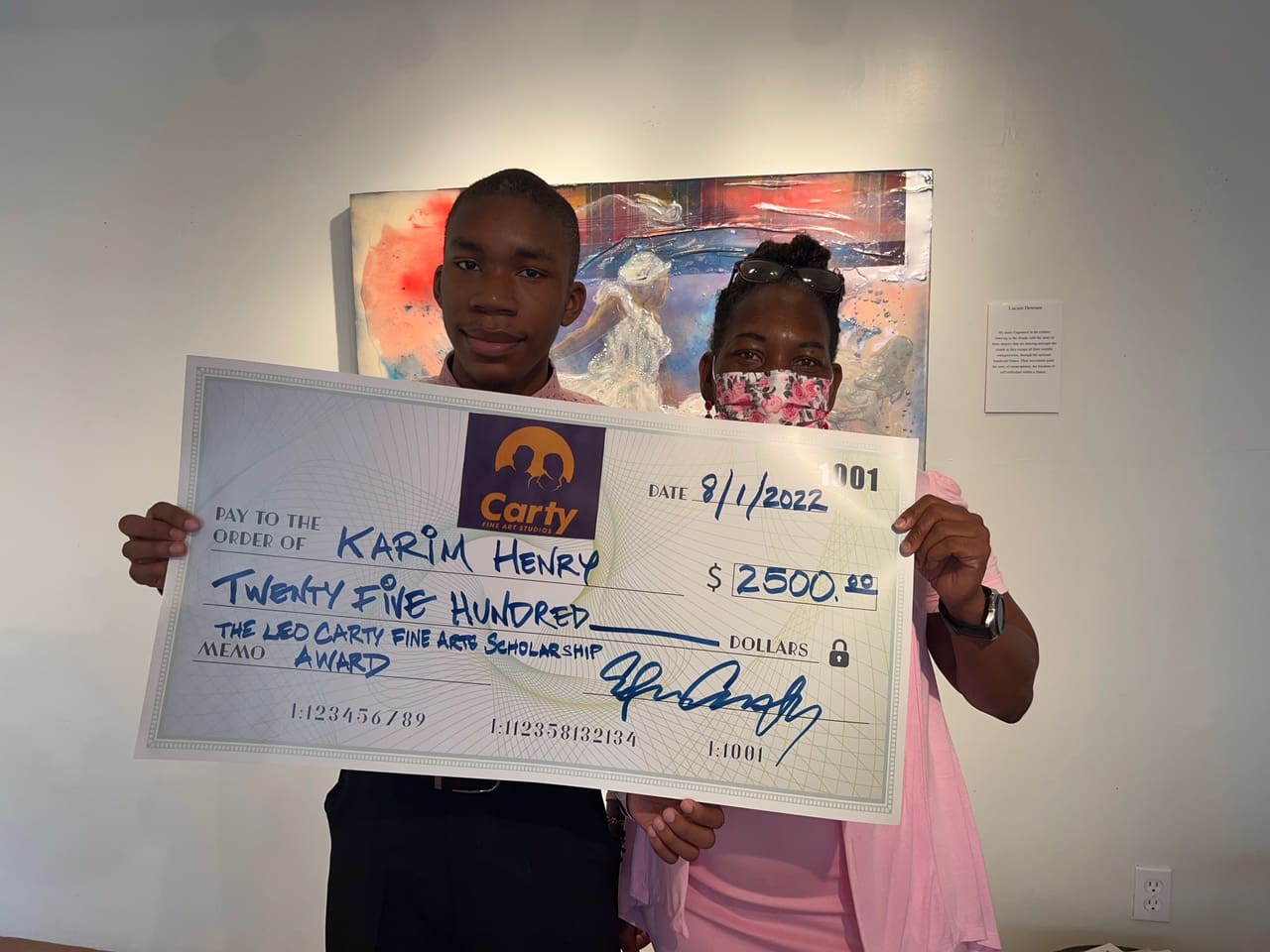 David's relationship with Henry began with teaching him art, beginning in kindergarten through Eulalie Rivera Elementary School and continuing with art classes during his first year at SCECHS.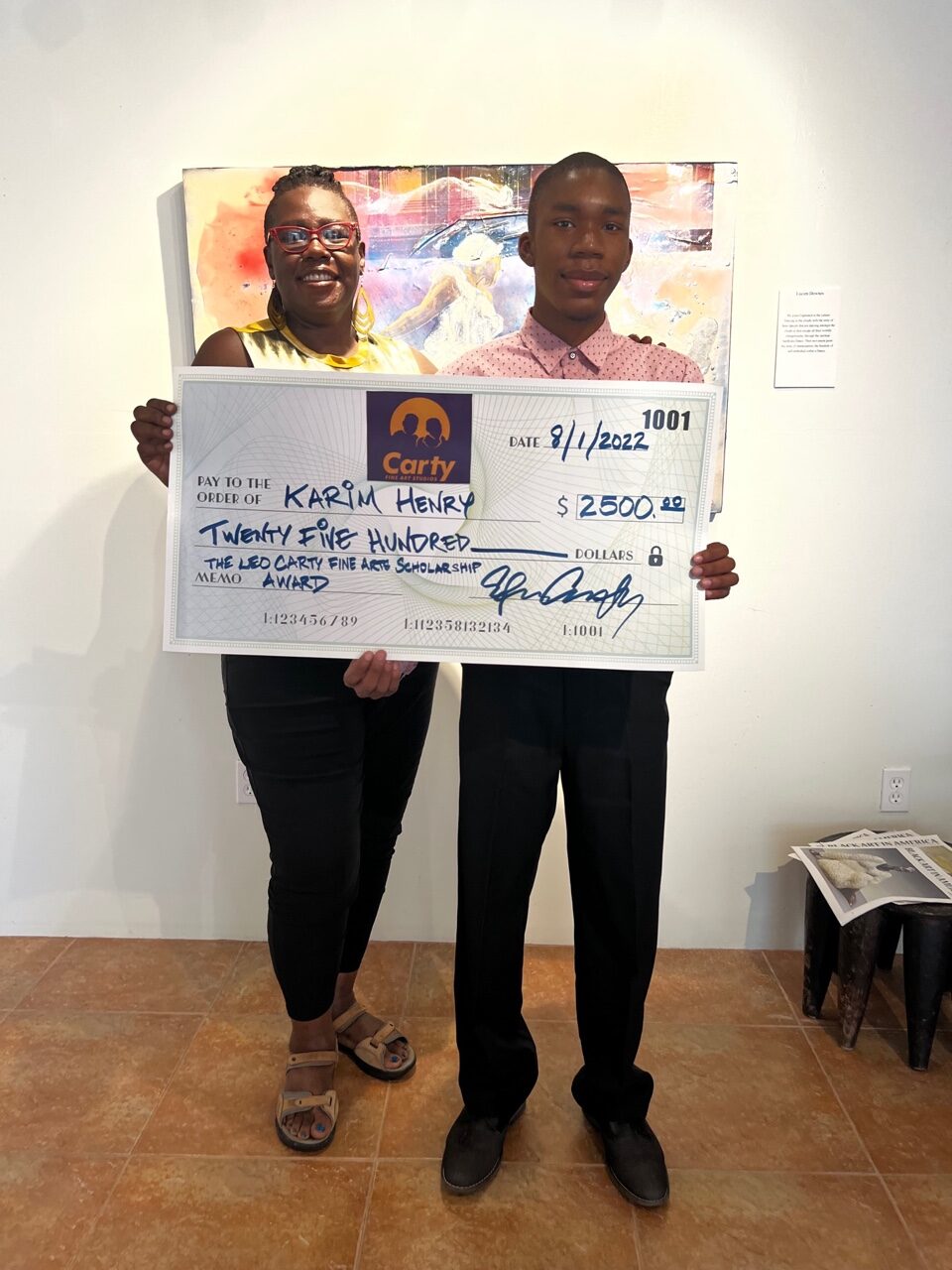 "I got a list from my art teachers for the most needed supplies in their classrooms when we order from Blick Art Materials with the gift card," she said.
Walker is a strong advocate for the arts in education, and she welcomed the donation that will replenish art supplies and support the CHS art department.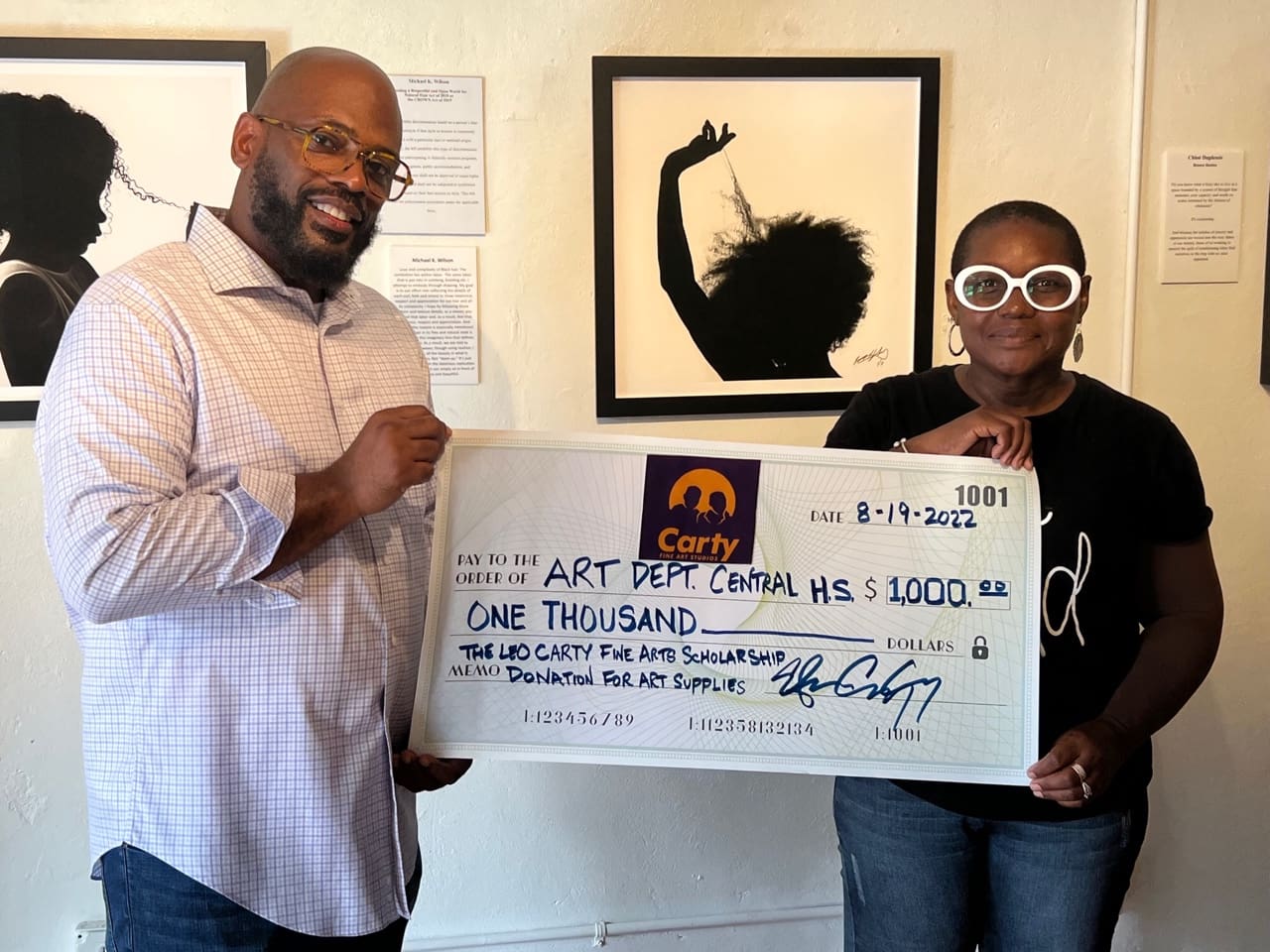 Randolph spoke of his pride in his two sons and their academic achievements.
Henry, she pointed out, was Eulalie Rivera's first honors student. He was valedictorian of the Arthur Richards High School graduating class and valedictorian of the SCECHS graduating class.
"I'm so proud of him," Randolph said of Henry. "While attending school virtually, I was diagnosed with breast cancer and was undergoing chemotherapy. I completed treatment in July 2021 and am cancer free. I am happy to be his mother and happy that he is my son. I am a single parent and I do my best with my two sons. I always make sure to take them to church on Sundays. Sedrick is a 6th grade AP student to Eulalia Rivera.
Deane's mission is to support the vision of the community. She and Stefan lined up Leo Carty's next exhibition in his gallery. The 2023 exhibition will open on April 20 and run through May. The exhibit will feature Carty and his art students.
Stefan keeps telling art students, "Apply, apply, apply ASAP. Applications will be due by February 2023. The scholarship will be awarded the week before Memorial Day 2023. Applications will be available immediately at schools nationwide.
Stefan thanks Neville James of WTJX FM radio for his support during the first two years of bringing this vision to life. He thanks the VI community for their support and for embracing the legacy of Leo Carty's contributions to the visual arts in VI. Thanks to Mrs. Sonia Deane and the Cane Roots Art Gallery.
For more information: