2022 is the Year of the Limu (seaweed), and communities everywhere are celebrating Hawaii strengthen links between programs and generations. In March, the Keahiakahoe Canoe Club, with the support of the University of Hawaii Sea Grant College Program (Hawaii Sea Grant) and Kuaʻāina Ulu ʻAuamo (KUA) came together to support the creation of a Limu indigenous mural on Sand Island.
Students from the Kapālama Murals Club of Kamehameha Schools, led by seniors Annamarie Ellazar and Mailelauhulali Hoe, designed and painted the mural with the themes of 'unity' and 'place' in mind, with a inherent Hawaiian perspective. These young artists and their kumu, Boz Schurr, devoted four days of their spring vacation to the realization of the project.
See a time lapse of the mural here.
The mural titled "Kaholaloa" is inspired by a connection to the place and references the reef that was filled in to form Sand Island. Using the traditional name of the island of sand, the artists paid homage to the roots of this significant place.
The diversity of indigenous limu and the club's canoe koa, Keolahouomaehaʻapiti, seem to have nothing in common, but the two are attached to this place where many communities come together to paddle, swim and celebrate. Keolahouomaehaʻapiti is depicted riding ancient waves, floating above the native fauna of the ancient reef, with limu woven throughout the design.
Limu is important for Hawaii with strong historical and cultural ties to Native Hawaiians due to its importance as a food source and bioindicator of environmental health, often bringing people together, making the limu a transcendent symbol of unity.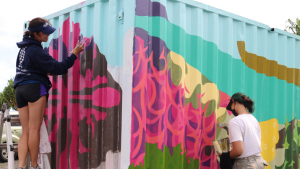 "As we strengthen the University of Hawaii in Mānoa as a place of Native Hawaiian learning, this mural in collaboration with the Kamehameha Mural Club, KUA and Keahahiakahoe is just one of the many ways our programs can creatively engage and partner with local community members and elevate the incredible talents of our young leaders, all to strengthen our bond with one another. with others and with the place," said Beth Lenz, PhDDeputy Director for Diversity and Community Engagement at Hawaii Subsidy from the sea.
To celebrate the Year of Limu and Hawaii In celebration of Sea Grant's 50th anniversary, future projects are planned to beautify the spaces and revitalize a connection to the ocean with an emphasis on the limu.
See more Hawaii Sea Grant Stories.